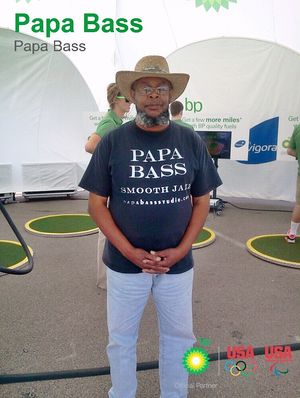 BIOGRAPHY
    Papa Bass began his musical career at the tender age of 6.  His first instrument of choice was the piano.  Throughout his formative pre-teen years, Papa Bass took piano lessons until he mastered the instrument.  The lure of other instruments captivated Papa's attention during high school, especially the electric bass guitar, tuba, trombone, baritone and sousaphone.  Hence, Papa Bass took lessons on all of the aforementioned instruments and played them either in the marching band or concert orchestra—one at a time of course. 
  
     After high school, Papa Bass took his music, instruments, dreams and ambitions to Europe.  He began playing with Rock Bands in European clubs.  It was during an evening fete at a Jazz Cellar that a prominent Jazz Saxophonist noticed Papa Bass and offered to give him private jazz lessons on the electric bass guitar—the rest is history.  You be the judge as you listen to the musical tracks on each of the CDs. All songs on his CD's are original.  Papa Bass composed, produced, orchestrated and blended all of the music for your listening pleasure. 
     Papa Bass plays Smooth Jazz in a manner that causes you to sway unconsciously, tap your foot impulsively, work energetically, or simply rest your weary brow and close your eyes visualizing a cool mist of delightful music being lightly sprayed upon your body.  Yes!  This IS Papa Bass.  
    For over thirty years Papa Bass has been delighting audiences in Jazz Clubs throughout Europe and America as well as at private gatherings of like-minded people.  His smooth jazz compositions include masterful bass lines with melodic content that seamlessly shift from tightly arranged instrumental ensembles to innovative improvisational blends of bass guitar with one or more instruments.   
     Each composition tells a beautiful story laced with dramatic plot twists, lightheartedness, conflict and resolution.  Papa Bass mesmerizes you with his musical arrangements and orchestration.  His special talent and musical style captivates your mind, body and soul. 
   Enjoy Papa Bass's upbeat and sophisticated collection of music.   The artist welcomes any critique of his music and constructive comments, please leave them in the guest area.  Be sure to inform your friends about Papa Bass and his music.